The Great Australian Show
Benn Gunn's Rocking Tribute To Aussie Kulcha
The 2022 tour raising money for your local charity
Enquire at the link below to book your venue or charity now
4 Years In The Making...
Benn Gunn's Great Australian Show is two sets full of rocking Aussie songs, great jokes, a full projector screen with images and videos, stage lighting, full band backing tracks, and great Aussie entertainment.

Every show will be raising money for a local charity in the region it's held. Local companies can sponsor the event, and local live music venues can benefit from bar sales generated from the big turnout the show brings.

Bookings are limited and must be made well in advance to ensure maximum ticket sales.
Benn Gunn is one of Australian country's most in demand live performer with his own brand of "Aussie heartland rock" that appeals to Aussies of every age and a wide range of musical tastes. He is loved for his rocking shows, his Aussie humour, his stunning guitar skills, his huge voice and his wide musical appeal with roots in both Aussie pub rock and country.

He has charted multiple singles including:

# The record breaking #1 Only In Australia.

# The #1 Luckiest Man Alive.
# The 3 week #1 hit Girls Like Guys With Trucks.

# The charting singles Born & Bred, We Can Be Mates, She Got The House I Got The Boat, Heavensville, I Like Girls That Drink Beer, Rawsonville Road and more.

# His 2017 single "I'm A Queenslander" released to raise donations for communities affected by Cyclone Debbie. This single was played by country and commercial radio stations across Queensland.

His Facebook videos have millions of views and his new Great Australian Show is an experience old fans and people who have never seen him live before will be talking about for years to come.

Benn Gunn built his reputation as the go-to performer for rocking shows, playing in the outback to packed Bachelor & Spinster (B&S) balls...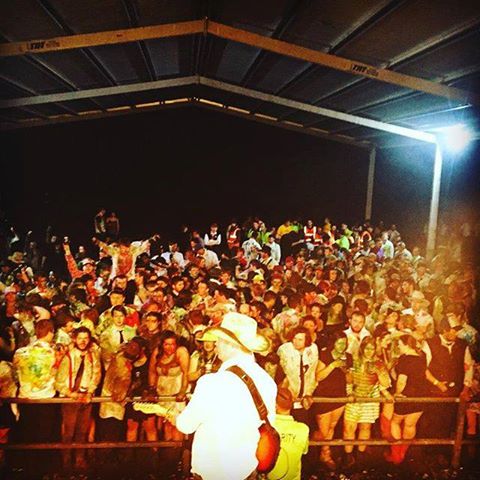 Benn is a highly professional, skilled musician and singer with a wide repertoire of Aussie themed original songs and a full show geared to create an Aussie experience attendees will rave about.

Venues Benn has played include The Broadbeach Country Music Festival, The Deni Ute Muster, Tamworth Country Music Festival, Gympie Music Muster, Sydney Country Music Festival, Mud Bulls & Music Festival, Canberra Country Music Festival, Central Coast Country Music Festival, Beauy Muster Rock The Desert and many others.

To make bookings for Benn Gunn's Great Australian Show
contact Benn Gunn management at this page.